WHO WE ARE
Non-profit 501 c 3
TCRCD partner
TCRCD fiscal sponsor
Funders of ongoing work of the TCRCD
Providing additional funding resources
WHAT WE DO
Young Family Ranch
Community Forest
Environmental Education Camp
Restoring Wetlands
Trails
Salmon Festival
And much more...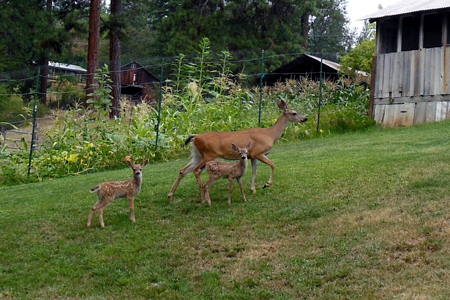 Some Friends on their way to making a donation…
The Friends of the Trinity County Resource Conservation District (Friends) was established as a non-profit in 2015 in association with the Trinity County Resource Conservation District. The purpose of this non-profit is to support the mission and ongoing work of the RCD. The Friends helps the District further its mission by securing funds not otherwise available to the RCD, through foundations, tax-deductible donations and gifts. Increasing the variety and amount of revenue streams available to both organizations can help the District extend its programs and increase effectiveness. Donors can create an enduring legacy that perpetuates a commitment to conservation by supporting the Friends through a gift in one's will.
The RCD/FOTCRCD also awards a yearly scholarship to a student who will be pursuing natural resource-based studies in college. The current award amount is $500.00.
We make it easy—just hit the DONATE button on the left. Donations are accepted by PayPal and mail-in check. You can also download and print our donation BROCHURE. If you want your donation to apply to a specific area (sorted below), send an email to cosullivan@fotcrcd.org. Please visit the Trinity County Resource Conservation District's web site to learn more.
Emphasis Areas:

TRAILS
WEAVERVILLE COMMUNITY FOREST
WATERSHED RESTORATION
BIOMASS UTILIZATION

ENVRIONMENTAL EDUCATION CAMP
YOUNG FAMILY RANCH
FOREST HEALTH/FUELS REDUCTION
Friends of the Trinity County Resource Conservation District Board of Directors:

Alex Cousins, President
Mike Rourke, Secretary
Colleen O'Sullivan, Treasurer

Kate Grossman, member-at-large
Ken Dunn, member-at-large